---
Honda Cd 110 Dream - Eric Stoskopf - 07-05-2014

I find it very interesting to see what kind of practical, easily maintained transportation highly congested places like India use. I imagine function overrides form in just about every area of everyday life.



[url="http://overdrive.in/news/honda-cd-110-dream-launched-in-india-at-rs-41100/"]Honda CD 110 Dream[/url]








Eric


---
Honda Cd 110 Dream - steve_n - 07-05-2014

I wish they'd write those ads in English <img src='http://hoodswoods.net/IVB/public/style_emoticons/<#EMO_DIR#>/tongue.gif' class='bbc_emoticon' alt='
' />/>. I just noticed Honda has a bike called the Grom as an entry bike in the US- only 125cc @ $3k . Really missing my '88 HawkGT (650 V-twin, 41mm forks, twin spar Al frame) after seeing the specs on the sub $6k bikes - be really tempting to find a used one first. Now I'm getting less surprised at the prices of used bikes. Oh well. 71mpg for the Grom does sound appealing tho'.


---
Honda Cd 110 Dream - 90north - 07-05-2014

Remember the Honda "Trail 90"? http://www.motorera.com/honda/h0090/trail90/trail90.htm


---
Honda Cd 110 Dream - Eric Stoskopf - 07-05-2014

The Honda Grom. Looks fun!








If I was looking for a, practical, straight forward design for commuting, Yamaha's SR 400 may be worth a look. Check out the custom TT. I remember always checking out some guys TT 500 at the pool when I was a kid. I always wondered what the small, mysterious (decompressor) lever was because my GT 80 didn't have one!



[url="http://www.yamahamotorsports.com/sport/products/modelhome/691/home.aspx"]Yamaha SR 400[/url]



Eric


---
Honda Cd 110 Dream - steve_n - 07-06-2014

I know the ad's got pretty girls in it and all - but 12" tires ........ Looks like a minibike on steroids and handling could get squirrelly. I have a feeling tires would be a pain to find and very limited selection - I received a new appreciation for rubber after my first replacement set.


---
Honda Cd 110 Dream - Eric Stoskopf - 07-06-2014

It really is all about the pretty girls but availability of parts is definitely something that should be considered.



I'm in the middle of resurrecting an old skid steer that's been sitting at the Silo for the last few years. It was running when I parked it but it had a hydraulic hose that crapped out. It was also leaking oil. The loader's design is about as simple as it gets---remove the rear counter weight, disconnect a few wires/cables, remove four mounting bolts and the 23 hp Kohler engine just slides out the back. Even an idiot like myself can work on this thing.








Right now the only thing missing is spark. Next step is to order a harmonic balancer puller from Lisle so I can pop the flywheel and see what's up. Kind of going through the same thing with my XR right now (replacing the pulse generator).



Eric


---
Honda Cd 110 Dream - mjh - 07-06-2014

Hey those Honda trail 90's are still out there, at least in my area I can usually find one, two or more on craigslist,,,,a least in the non snow months...how about the Yamaha 200??


---
Honda Cd 110 Dream - Guest - 07-10-2014

Thank God for the 2008 Financial Crisis--at least as far as motorcycling in this country is concerned. It was a solid bitch-slap wake-up call to the American riding public. Motorcycling in in the U.S. had lost its social rudder. Porky riders with equally fat wallets lined up at dealerships to buy bloated, expensive, complicated, mechanical penis enhancements. And, naturally, adhering to free-market principles, the manufacturers were happy to build them. Problem is, they ignored most everyone else. When those wallets went on a diet, the manufacturers were forced to bring in bikes that made more sense for the common, practical rider—and that was the silver lining in a pretty dark economic cloud.



Don't get me wrong—the Rat Bastard likes to ride as fast as anyone else. (At Bonneville, he was once clocked on radar at 189 mph.) But if you're looking for a bike that can provide basic transportation and mobility, you have much better choices now than just a few years ago.



The rest of the world has lived with this reality forever, and a lot of these bikes have come from familiar names (Honda, Yamaha, Kawasaki), but up until now they weren't available in the U.S. And while Mr. Stoskopf's Honda CD110 Dream won't be coming to the U.S, the last few years have brought several excellent small bikes here. Standouts are the Honda CBR250R and new CBR300-series machines and Kawasaki's 300-series Ninjas.



http://powersports.honda.com/2013/cbr250r.aspx



http://powersports.honda.com/2015/cb300f.aspx





The new Yamaha 400 has potential, although the lack of an electric starter may put some riders off—we'll see how the bike is received. A really excellent choice are the new 500-series twins from Honda:



http://www.yamahamotorsports.com/sport/products/modelhome/691/0/home.aspx



http://powersports.honda.com/2014/cb500f.aspx



When you get down to the 110cc bikes, these are fine choices for urban transportation in stop-and-go traffic, but way too small for freeway riding. (The Honda Grom is a 125, but a small one.) Several forum members have brought up the old Honda Trail 90 (1964-1966 with twin rear sprockets, 1966-1979 with the hi/low-range gearbox) and the same bike with a slightly larger bore and longer stroke, the CT110 (1980-1984).



I have a CT110(1984) and ride it a lot. If I'm really careful, I can get up to 105 miles on a gallon of gas. My brother has a CT90 (two, actually) that we once mistakenly topped off with diesel, and it still ran for ten miles before the plug fouled out! These are/were excellent little do-everything bikes in the old days, but in the U.S. the youngest examples are 30 years old now.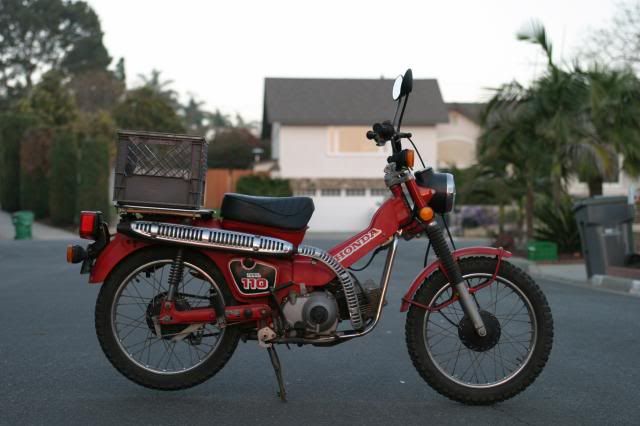 But given this Forum's membership, I'd think most of you would be interested in a bike that can double as some sort of disaster/bug-out/emergency transportation too. So a better solution for someone looking for a street-legal/dirt-road-capable grocery getter would be a 230cc-250cc dual-sport machine, like a Honda CRF250L, a Yamaha XT250 or a Kawasaki KLX250. The old Kawasaki 125 Sherpa was another great choice.



http://powersports.honda.com/2014/crf250l/street.aspx



http://www.yamahamotorsports.com/sport/products/modelhome/574/0/home.aspx



http://www.kawasaki.com/Products/Product-Specifications.aspx?scid=14&id=737



Little bikes like the Honda Cub (or CT110) are the pickup trucks of the third world: Inexpensive, reliable, versatile. You probably have products in your home that were transported on these little bikes of burden. For most Americans they'd be too small for what we want out of a motorcycle. But as a third vehicle—something you can throw on the back of a motorhome on in the bed of a pickup, they're a lot better than walking or pushing a handcart.








And of course there are about a billion good little used bikes out there. As noted, my little CT110 is 30 years old, and I have an XL250R of the same vintage—both still running strong.



Look, I know bikes aren't for everyone. And they can just as easily be part of the problem as be part of the solution. Giant chromed 2000cc barges that convert fossil fuels into noise and heat without the annoying byproduct of horsepower? Part of the problem. Daily-use machines that mobilize a population and let them interact with their environment, don't take up parking places and are thrifty at the gas pump? Part of the solution.



And, thankfully, machines like that are available here once again.



--ML



[size="1"]Grand Master King Dickhead Maximum Rat Bastard Slack-Jawed Leftist

White-Collar Godless Liberal California Sheeple Lumpenproletariat Jesuit Illuminati

Samizdat Intelligentsia Cultural Elite Long-Haired Gun-Hippie Desert Roach

Nine-Fingered Mouth-Breathing Mud-Running Motorcycle-Riding Alpha Über Geek

Yuppie Asshole Lazzaroni Neandertal Ragpicking Spaβbremse and Cross-Country Ski Jerk©®™[/size]


---
Honda Cd 110 Dream - Eric Stoskopf - 07-10-2014

Excellent write up. Thank you.



I'm able to ride most of the year so whenever I need to drive the truck for whatever reason, it just seems little inefficient and slightly overkill. But the truck is a tool and definitly has it's place.



I can't recall if I ever ran this across you ML but I've always wondered why certain four wheeled ATV vehicles haven't been able to be licensed for street use. Properly equipped (turn signals, DOT tires, etc.), I would think they would be quite popular. I imagine the car manufacturers have a lot of influence on why this has never come about but I may be wrong. I know Can-Am has the Spyder but that's the closest thing to a street legal ATV that I've seen.



[url="http://can-am.brp.com/spyder/spyder/spyder-rs/spyder-rs-s.html"]Can-Am Spyder[/url]



[url="http://upr.org/post/five-year-report-card-utahs-street-legal-atvs"]Article[/url]



Eric


---
Honda Cd 110 Dream - steve_n - 07-11-2014

There's also the [url="http://eliogenuine.eliomotors.com/?utm_source=bing&utm_medium=cpc&utm_campaign=SEM-Elio-NonBrand-T1&utm_term=3%20wheel%20car"]Elio [/url]- bit more car-like for transporting things/another person.



The thing is, when you get into some of these niche vehicles you have to realize the additional compromises you have made. When riding a motorcycle you give up the safety cage and conspicuity of a car/truck, but you gain visibility and more "outs" in case an emergency - acceleration, maneuverability, small size, even jumping off or laying it down are options. I even found myself riding the broken line between 2 cars at 70mph b/c someone wanting my lane despite me using it. With some of these other vehicles you are giving up some of your maneuverability and other advantages of a motorcycle. Not putting them down as I can see myself owning one of the variants, but it is important to realize limitations and recognize advantages.



Erik, I always figured it had to do with

1) finding DOT tires the right size - I remember a friend's brother who had a lifted 4x4 with offroad tires admitting he couldn't stop for shit in wet weather

2) not meeting emissions standards

3) instability of the vehicle - a lot easier to flip during evasive maneuvers


---
Honda Cd 110 Dream - Eric Stoskopf - 07-11-2014

Sometimes I'll see a huge bike go by that's so loaded down with accessories (hard bags, windshield, back rest, crash bars, fog lights, etc.) that makes me wonder why doesn't the guy just buy a small car? But..that's what makes riding so enjoyable. Individualism.



If I was looking for a small, practical fuel efficient vehicle, I would check these out:



[url="http://www.scion.com/cars/iQ2014/"]Scion (Toyota) IQ[/url]



[url="https://www.youtube.com/watch?v=TnGflLVOfFk"]Randy's Donuts[/url]



Eric


---
Honda Cd 110 Dream - Guest - 07-11-2014

[quote name='Eric Stoskopf' timestamp='1405035021' post='592845']



I'm able to ride most of the year so whenever I need to drive the truck for whatever reason, it just seems little inefficient and slightly overkill. But the truck is a tool and definitly has it's place.



[/quote]



I totally agree. I try to ride my bicycle or small motorcycle whenever I can for the same reason. Today, though, I had to haul 120-feet of conduit; nice to have the truck for that. It's not an Manichean universe, despite how convenient the more religious or politically fervent find that for propagating their world view. Years ago one of the reasons I started riding motorcycles was because it seemed wasteful to me to use a giant chunk of Detroit iron capable of carrying a couple thousand pound of cargo to transport me, a couple of schoolbooks and my wallet.



[quote name='Eric Stoskopf' timestamp='1405035021' post='592845']



I can't recall if I ever ran this across you ML but I've always wondered why certain four wheeled ATV vehicles haven't been able to be licensed for street use.



[/quote]



I've ridden ATVs on the street, and they are licensed for street use in some countries. (Amazingly, I've seen them with plates and on the road in southern Germany.) In my experience, this is a really bad idea for three reasons, in addition to the obvious safety and protection issues.



First, due to the very low tire pressure and long-travel, soft suspension, the vehicles exhibit exaggerated roll during turns on pavement, and this is compounded with evasive left/right maneuvers. You can fit some higher-pressure tires with more pavement-oriented tread designs, but the roll rate is still pretty marked.



Second, and really just as bad, most ATVs still use solid rear axles with no differential. This makes them difficult to turn on pavement where there's no tire/surface slip as there is when operating them in the dirt.



Third, few ATVs incorporate any sort of cush drive or driveline damper in their designs. Again, the natural tire/surface slip on the dirt takes care of this. But with a big single-cylinder engine firing only once every 720 degrees of crankshaft rotation, the power pulses to the driving wheels experience a series of pretty big shocks followed by long periods of unloaded rotation. Even worse, when you let off the throttle suddenly at speed, the transmissions backloads pretty severely, leading to short driveline life. Streetbikes always incorporate some sort of cush drive built in to the rear wheel to ameliorate this.



Sorry to be a buzzkill on this one, but I think there are much better options. Plenty of people do use even less-optimal "vehicles" for transportation though, like Alvin Straight who piloted his riding mower 240 miles to visit his brother in 1994. And of course, were I faced with walking or riding any great distance under dire conditions, well, hand me the keys.



--ML



[size="1"]Grand Master King Dickhead Maximum Rat Bastard Slack-Jawed Leftist

White-Collar Godless Liberal California Sheeple Lumpenproletariat Jesuit Illuminati

Samizdat Intelligentsia Cultural Elite Long-Haired Gun-Hippie Desert Roach

Nine-Fingered Mouth-Breathing Mud-Running Motorcycle-Riding Alpha Über Geek

Yuppie Asshole Lazzaroni Neandertal Ragpicking Spaβbremse and Cross-Country Ski Jerk©®™

[/size]


---
Honda Cd 110 Dream - Eric Stoskopf - 07-12-2014

No buzzkill at all. The three reasons you listed make a lot of sense.



I have The Straight Story on DVD. I imagine there's a few people on this forum that would do the same thing if it were them.



By the way, I still have my first vehicle from 1980...a 49cc Yamaha QT50. That little bike was my first real taste of freedom. I remember going to a moped safety school with a few of my friends so we could get our permits. I traded off my little YZ80 and can still remember the ride back from Weber's Yamaha having to steady the "Yamahopper" on the back of my Dad's flatbed truck. My friends and I thought we were the shit blue smoke and all! The bike has seen a lot of use but it still runs great. I'd get it registered just for fun but I can't seem to locate the title.



Eric


---
Honda Cd 110 Dream - realp3 - 07-28-2014

I read one time on this board that small motorbikes are the AKs of the bikeworld and this about sums it up. This year I had the pleasure of hosting one of your countrymen for a week. He bought a used Honda CG 125 in Britain and rode Europe extensively (Britain, France, Belgium, Germany, Austria, Slovenia, Hungary, Romenia, Serbia, Croatia, Montenegro, Bosnia, Italy, France, Spain, all in three months). And all on a machine with a top speed of 60 mph. Right now he should make the leap to Africa, going to Cape Town via the western route (Morocco etc.) This shows how capable these little rides are if you do your part.



One vehicle which seems to be overlooked quite often is the lowly scooter. If anybody is in the market for an incredibly useful and dependable ride, I suggest looking hard at the Honda PCX 150.

http://powersports.honda.com/2015/pcx.aspx



Scooters offer great protection from the elements as compared to motorcycles, underseat storage and are being nippy and fun. With a belt drive and FI (modern scoots) they are dependable as it gets. In fact after this post I will ride home from work on my Honda FES 125 which ticks all the boxes besides being not the best choice for riding freeways. It is fun on country roads and a blast in town. I rode it one year through all four seasons when I went through economically hard times. It never let me down. If I could have one vehicle, it would be my scooter ... and I own two cars, a motorcycle and a van besides the scoot.



One of my first posts on the board was about my scooter, but I seem to be uncapable of looking it up with the search function. Maybe someone else does better. <img src='http://hoodswoods.net/IVB/public/style_emoticons/<#EMO_DIR#>/tongue.gif' class='bbc_emoticon' alt='
' />


---
Honda Cd 110 Dream - boomhawr - 07-28-2014

the girl I dated in Thailand said that when we go visit her parents she was going to take me riding on a took-took. but since we split, guess it ain't happening now. http://www.flixya.com/photo/2140499/The-TOOK-TOOK-of-Thailand


---