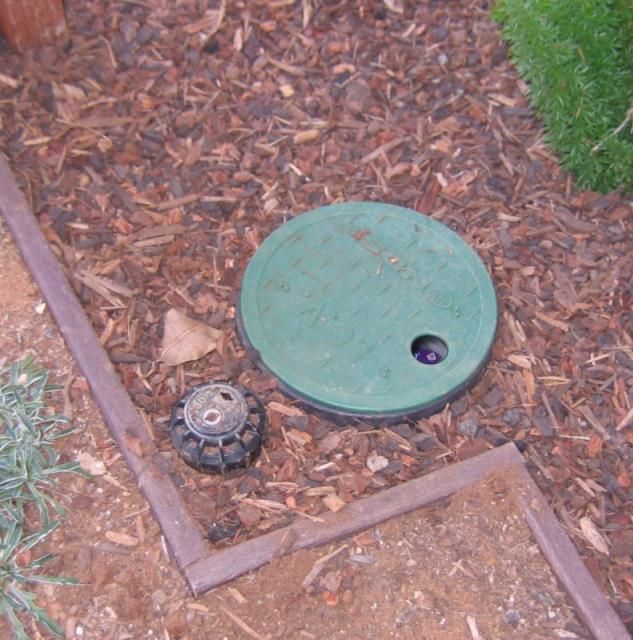 [size="5"]Hidden In Plain Sight, Part 1[/size]
[size="5"]W[/size]
hen you're livin' life like the Nine-Fingered Rat Bastard, you can never tell when you might have to high-tail it out of wherever you slept last night with a pissed-off woman/landlord/employer/husband/debt collector on your tail. Therefore it just plain makes sense to have some crap stashed to make the next night a little easier, wherever that may be. (Dog barking for no reason tonight? Looked outside in your garage or under your porch lately? Notice a sulfurous stench? Might be me sleeping in your car!)
Here's the story: While you were living it up last year, The Rat Bastard was living like a roach, remodeling the Spider Hole. That included ripping up all the landscape and putting in a new sprinkler and sewage system. Naturally, given my fugitive inclinations, this struck me as a grand opportunity.
The New-And-Improved Spider Hole has a bunch of valve boxes set along one edge of the property. These control irrigation, sprinklers, sewage pumps, and the like. Nothing special here. Or is there?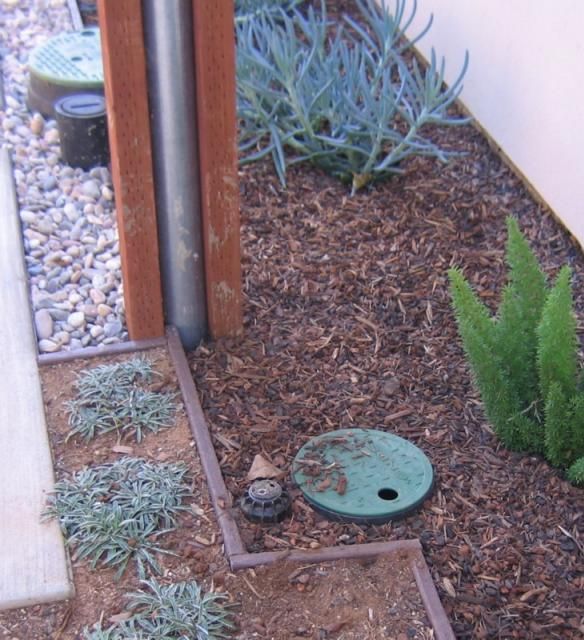 Well, one of these is a little unusual—there's no valve inside, just a waterproof plastic liner:
Open it up, and what might we find?
Holy Shit! A short dog of cactus brandy, a box of condoms, some sort of concealable shooting instrument, a big-ass folding knife, foreign and domestic passports, paper money—Jeezus H. Tapdancing Christ, this is a wino's jackpot!
[size="5"]I[/size]
t's obvious what's going on here: A remote receptacle like this, outside of your home or office, lets you stash objects discreetly that you or someone else can retrieve. At the Spider Hole it gives me a place to leave cash, checks or objects that someone can pick up, without just "hiding" it under the doormat. How might you employ something like of this kind?
I assembled this by using a valve-housing body and a 2.5-quart plastic container from Home Despot. Just shoved the bucket into the valve-housing body and secured it with a big bead of silicon seal inside and out, dug a hole, and buried the whole shebang. I made sure this one was in front of a gate where it's accessable, but discreetly located on the side of the slave shack where whoever's retrieving what I've stashed won't attract attention. What you load it up with is up to you. Maybe you want to put your objects in a Ziplok freezer bag and throw a couple of handfuls of gravel on top, depending on your level of paranoia. You're smart enough to figure that out.
It's easy to direct someone else to this location--maybe even send them a cell-phone picture. I feel a lot better about leaving something there than under the mat--especially if it's not an envelope. Got something really big to ditch? Use a bigger valve-body box.
And don't mind that noise by your trash cans tonight. It's just probably just some broken-down old mountain climber looking for leftover pizza crusts or some coffee grounds I can reuse.
Cheers!
--ML
[size="1"]Grand Master King Dickhead Maximum Rat Bastard Slack-Jawed Leftist
White-Collar Godless Liberal California Sheeple Lumpenproletariat Jesuit Illuminati
Samizdat Intelligentsia Cultural Elite Long-Haired Gun-Hippie Desert Roach
Nine-Fingered Mouth-Breathing Mud-Running Motorcycle-Riding Alpha Über Geek
Yuppie Asshole Lazzaroni Neandertal Ragpicking Spaβbremse and Cross-Country Ski Jerk©®™[/size]